Chile Pepper Cross Country Festival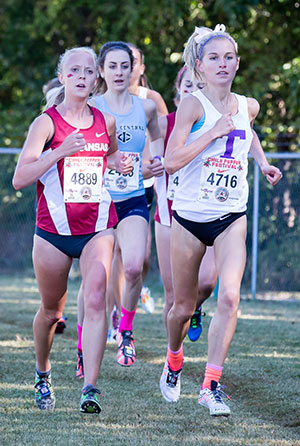 The Chile Pepper Cross Country Festival was created to bring together three Northwest Arkansas cross-country races under a single event. The Chile Pepper Cross Country Festival is now one of the premier running events in America.
Each year over 80 college teams and 120 high school teams battle for prestige and unique Chile Pepper themed awards. Additionally, 750 individuals participate in the Open 10k and 5K Fun Run plus the New Tom Lewis 1 Mile Pepper Dash on Friday Night. The event is held at University of Arkansas' incredible off road course and all runners are invited to enjoy a Hot Mexican food feast following the race.
In 2015, the Chile Pepper celebrated its 27th year and hosted approximately 5,300 runners and over 5,000 spectators the weekend of October 3rd, 2015. The support of sponsors, runners, and athletes has contributed more than $400,000 to Northwest Arkansas cross-country programs. $45,000 was donated to area programs in 2014.
2016 Registered Teams
Airline
Alma High School
Alma Jr. High
Arkansas Arts Academy
Arkansas Arts Academy Penguins
Arkansas State
Arkansas State Men
Arkansas Tech University
Arlington Heights High School
Arlington High School
Arlington Sam Houston High School
Arrow Christian Academy
Augustana
Awty International
Awty International School
Bartlesville Boys
Bartlesville Girls
Bartlesville JV Boys
Bartlesville JV Girls
Barton Community College
Beebe High School
Belton High School
Benton Lady Panthers
Benton Panthers
Bentonville High School
Bentonville West
Bergman Jr Girls
Bergman Sr Boys
Bergman Sr Girls
Berryville Jr High Boys
Berryville Jr High Girls
Berryville Sr High Boys
Berryville Sr High Boys JV
Berryville Sr High Girls
Bishop
Bishop Kelley
Bishop Kelley High School
Bishop Mcguinness
Blue Springs South
Blue Springs South High School
Bode Middle School
Bolivar
Boston College
Boys Open
Boys Varsity
Briarcrest Christian School
Broken Arrow
Broken Arrow JH
Bryant High School
Buffalo High School
C. E. Byrd Boys
C. E. Byrd Girls
Cabot High School
Caddo Hills
Canton Eagles
Carroll- Black
Carroll- Green
Carroll- Stripes
Carter-Riverside High School
Carter-Riverside High School Boys 2
Carter-Riverside High School Girls
Casady School
Cascia Hall
Cassville
Centennial Blue
Centennial High School
Centennial White
Central Arkansas
Central Arkansas Christian
Central Baptist College
Central High School
Central Junior High
Charleston High School
Christian Brothers University
Clarksville
Cloud County
College Of The Ozarks
Colleyville Heritage HS Boys A
Colleyville Heritage HS Boys B
Colleyville Heritage HS Girls A
Colleyville Heritage HS Girls B
Collierville High School
Colorado School Of Mines
Columbia College
Conway Christian
Conway High School
Conway Jr. High
Cottey College
Coweta High School
Creighton
Creighton University
Csu Pueblo
De Soto High School
Decatur High School
Deer Creek High School
Des Arc High School
Des Arc Jr. High School
Dover Jr. Lady Pirates
Dover Jr. Pirates
Dover Lady Pirates
Dover Pirates
Drake University
Drury University
Dyer County High School
East Central University
East Newton
Eastern New Mexico
Ecclesia
Ecclesia College
Edmond Memorial High School
Edmond Santa Fe High School
El Dorado Springs
Elim Track Club
Elkins High School
Episcopal Collegiate School Cross Country
Eureka Springs Highlanders
Falcon Project
Farmington High School
Farmington Junior High
Farmington Knights
Fayetteville
Fayetteville JV
Fayetteville Purple
Fayetteville White
Festus
First Assembly Christian School
Florida Southern College
Fort Worth Boswell
Fort Worth Boswell 2
Ft Smith SoutHSide
Fulbright Jr. High
Genoa Central
Genoa Central Dragons
Genoa Central Junior Boys
Gentry High School
Gentry Middle School
George Junior High Cross Country
Grapevine Middle School
Gravette
Green Forest High School Boys
Green Forest High School Girls
Green Forest Junior High Boys
Greenbrier High School Girls
Greenbrier Junior High Boys
Greenland High School
Greenland Junior High
Greenwood High School
Greenwood Jr High
Greenwood Jr. High
Haas Hall Academy
Haas Hall Bentonville
Har-Ber High School
Har-Ber High School - Girls
Harding Charter Prep Oklahoma City
Harding University
Harrison
Haskell Indian Nations University
Heavener Public Schools
Heber Springs High School
Hendrix College
Heritage High School
Heritage Jr High
Hermitage School
Holland Hall
Holliday High School
Hollister High
Hollister High School
Houston High School
Houston Middle School
Houston Stratford
HSAA
Huntsville
Indian Hills Community College
Iowa Central
Jackson High School
Jags XC
Jenks Trojans
Jessieville High School Boys
Jessieville High School Girls
John Brown University Men
John Brown University Women
Joplin High School JV Boys
Joplin High School JV Girls
Joplin High School Varsity Boys
Joplin High School Varsity Girl
Junction Hill School
Kansas City East Christian
Kansas Wesleyan University
KC East Lions
Kearney High School
Keller High School
Kickapoo
Kickapoo High School
Kickapool
Kinkaid School
Lafayette High School
Lafayette Lancers JV
Lafayette V
Lake Hamilton High School
Lake Hamilton Jr. High School
Lakeside Junior High Boys
Lakeside Junior High Girls
Lamar High School
Lavaca High School Boys
Lavaca HS Girls
Liberal High School
Liberal High School JV
Liberty North
License To Jog Run Club
Lincoln Christian Boys
Lincoln Christian Girls
Lincoln Jr. High
Little Rock Catholic
Little Rock Central
Little Rock Christian Academy
Lockhart Boys XC
Lockhart Girls XC
Lonoke
Manila High School
Mansfield
Marion High School
Marshfield High School
Maumelle
Maumelle High School
Mcauley Catholic
Mcauley Catholic High School
Mcdonald County
Melbourne High School
Mena Bearcats
Mena Lady Cats
Metro Christian
Mid America Nazarene University Men's Team
Mid America Nazarene University Women's Team
Midland University
Missouri S&T
Missouri Southern State University
Missouri State University
Monticello Billies
Monticello Lady Billies
Montrose Bluejays
Mount St Mary Academy
Mountain Home
Mustang High School
Neosho Cross Country Varsity Boys
Neosho Cross Country Varsity Girls
Neosho Open Boys
Nettleton High School
Nettleton Jr. High School
Nevada Mo Tigers Girls JV
Nevada Mo Tigers JV
Nevada Mo Tigers Varsity Girls
Nixa High School
Norman North
North Iowa Area Community College
North Texas
Northside
Northwest Missouri State
Northwestern OSU
NWACA
Oklahoma Baptist University
Oklahoma City University
Okrunner (M)
Okrunner (W)
Ouachita Baptist University
Owasso Public Schools
Ozark Christian College
Ozark Christian College Ladies
Ozark High School
Ozark MO JH
Papa Piske
Parkview
Parkway Central High School
Paschal
Pittsburg State
Plano West Senior High School
Pleasant Grove High School
Prairie Grove
Prize Running
Providence Academy
Pulaski Academy
Ramay Junior High
Really Fast
Richards
Rogers High School
Rogers Jr. High
Rogers State University
Rosehill Chrisian School
Russellville High School
Saint Joseph Central
Salem High School
Samford University
Sand Springs
Santa Clara University
Searcy
Sequoyah-Tahlequah HS
Sequoyah-Tahlequah MS
Shawnee Mission East Lancers
Sheridan High School
Sheridan Jr. High
Shiloh Christian School
Siloam Springs HS
Siloam Springs JH
Southern Arkansas University
Southern Nazarene University
Southwest Baptist University
Southwest JHS XC
Southwestern Community College
Springdale High School
Springdale High School Boys
Springfield Catholic High Schol
St. Gregory's University
St. Joseph Catholic School
St. Vincent De Paul
Stillwater High School Boys
Stillwater High School Girls
Stillwater High School Girls JV
Stillwater High School JV
Stilwell High Boys
Stilwell High Girls
Stockton
Strafford High School
Sylvan Hills High School
Tahlequah Boys Cross Country
Tahlequah Boys Junior Varsity CC
Tahlequah Girls
Tahlequah Girls Open
Tarleton State University
Team Bradford
Texas A&M Kingsville
Texas A&M University-Commerce
Texas Christian University
Texas Tech
Texas Wesleyan University
The Summit Preparatory School
Trinity Christian School
Trinity University (Texas)
Tulsa Eagles
UAFS
UALR
UIW
UL Lafayette
Univerisity Of Arkansas-Fort Smith
Univeristy Of Arkansas
University Of Arkansas
University Of Louisiana At Monroe
University Of Missouri
University Of Texas Rio Grande Valley
University Of The Ozarks
University Of West Florida
UNT Alumni
Valley Springs Jr High Lady Tigers
Valley Springs Lady Tigers
Valley Springs Tigers
Van Buren High School
Van Buren Junior High
VHS Boys (JV)
VHS Boys (V)
VHS Girls (JV)
VHS Girls (V)
Villanova University
VJHS Boys
VJHS Girls
Waco Midway
Waco Midway 2
Wagoner HS
Wagoner HS-Girls
Waldron Schools
Washington
Washington Junior High
Wayland Baptist University
Webb City
West Fork School District
West Plains Middle School
Wic
Wichita State University
Willard High School Boys
Willard High School Girls
William Woods
Williams Baptist College
Wizard
Woodland Junior High
Registered as of 9/27/16 8:45pm CDT